Everyone enjoys a chance to get away and relax, and celebrities are no exception. If you like the surprise of catching a glimpse of a celebrity while you're on vacation, try one of these popular getaways.
Arizona
Scottsdale hosts several popular and glamorous resorts and spas that are a favorite among celebrities. A stroll in the Scottsdale Fashion District has resulted in fans spotting stars such as Jay-Z, Beyoncé, Jennifer Aniston, and Angelina Jolie. Other celebrities have been known to enjoy the resorts including Taylor Swift, Usher, and Vince Vaughn.
Colorado
Aspen is known as a glamorous ski resort hosting luxury hotels and famous eateries. It's also a favorite place among stars to relax. Kyle Richards, Kate Hudson, and Will Smith are just a few of the celebrities who have been spotted enjoying a relaxing vacation.
Florida
Miami is known for its amazing weather, beautiful beaches, and fun night spots. It's common to spot stars enjoying the popular restaurants and bars in this exciting city. Fans have reported seeing Jennifer Lopez, Ricky Martin, David Beckham and more enjoying the delicious foods and sites this city has to offer.
Hawaii
The islands of Hawaii are a popular vacation spot to relax and enjoy the beauty of nature from beaches to volcanoes. Many celebrities agree. It's rumored that Oprah Winfrey and Drew Barrymore own homes there. Fans have reported spotting Britney Spears and Eva Longoria on the beautiful islands.
Louisiana
New Orleans is known as a fun-loving vacation spot to enjoy great music and delicious food. While enjoying the sites and sounds, you also have a chance to spot celebrities. Some stars enjoy the Big Easy so much they've bought homes there, including Sandra Bullock and Nicolas Cage. As a bonus, this is also a well-known filming location for Hollywood.
Nevada
With a slogan of What happens in Vegas stays in Vegas, Las Vegas is a popular getaway for stars ready to unwind. Celebrities such as Taylor Swift and Pharrell Williams have been seen enjoying the casinos and restaurants along this famous city's Strip.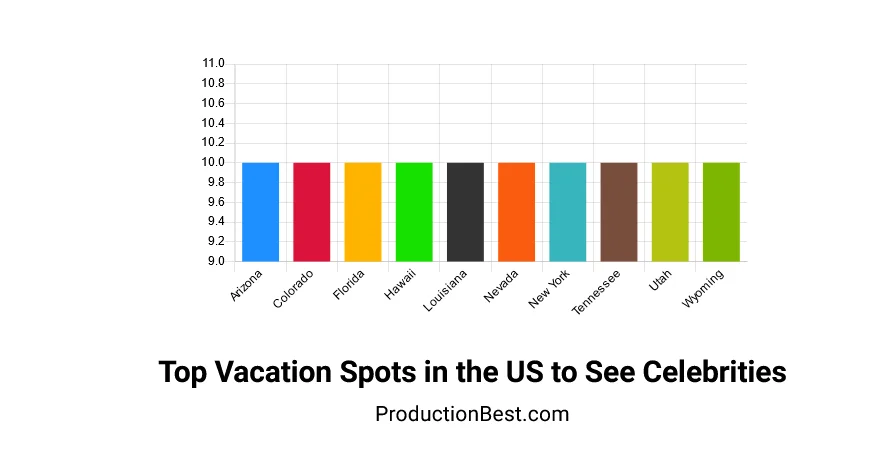 New York
The Hamptons is a popular beach getaway on Long Island to escape the heat of New York's summers. Stars such as Lady Gaga, Paul McCartney, and Brad Pitt have all been spotted enjoying the town's upscale restaurants and beautiful sites. Additionally, several celebrities enjoy the Hamptons so much that they own homes there, such as Billy Joel and Jerry Seinfeld. If you can't swing by the Hamptons, head into the city—New York City. You have an excellent chance of spotting stars as you enjoy this bustling city. Some may be on vacation, and some may be there for work.
Tennessee
Nashville is the heart of country music and is a big attraction for celebrities. Musicians such as Taylor Swift, Brad Paisley, and Keith Urban are reported to own homes in the area. A night out on the town can give you a chance to see a celebrity like Kid Rock also enjoying a drink at one of the city's famous bars.
Utah
If you enjoy skiing, Utah may be a great place to visit and ski while also seeing celebrities. Neil Patrick Harris, Mary J. Blige, and Miranda Lambert have all been spotted in the Deer Valley ski resort near Park City.
Wyoming
If visiting the Rockies is on your vacation wishlist, consider stopping by the charmingly rustic town of Jackson where stars like Kanye West have been known to visit. Some stars also reportedly own homes in this gorgeous state including Harrison Ford and Sandra Bullock. If you prefer skiing, try stopping by Jackson Hole. Many celebrities such as Jim Carrey and Matthew McConaughey have been spotted enjoying relaxing here in the winter months.